Indoor Air Quality
The first step toward clearing your home's air is knowing what's hiding in it. An Indoor Air Quality test offered through your Carrier® dealer can detect common air pollutants in just 30 minutes, while offering strategic Carrier solutions to address your air issues.
Infinity® Air Purifier
The award-winning Infinity air purifier works silently in-line with your HVAC system to make the air you breathe healthier. It uses Captures and Kills™ technology to trap up to 95% of pathogens down to .30 micron in size, then uses an electrical charge to kill or inactive them.
With every cycle of air that passes through this patented air purifying system—up to 8 per hour, pollen, animal dander, smoke, bacteria and other pollutants are trapped and held tightly to the filter. An electrical charge then bursts the cell walls of pathogens it comes in contact with.
Independent testing has proven the Infinity air purifier's effectiveness against 13 pathogens plus a common household fungus.

Performance™ Air Purifier
The Performance air purifier can help you answer concerns about your indoor air quality. Proven effective against 3 common pathogens including the common cold, it works silently in-line with your HVAC system, taking out up to 75% of organisms as small as .30 micron with every wave of air that passes through it.
At only 7.25" width, its narrow cabinet design also allows more flexibility for installation in tight spaces.
Carbon Monoxide (CO) Alarm
Carbon monoxide is a colorless, tasteless, odorless and highly toxic gas. The Carrier® CO alarm uses sophisticated sensor technology to detect and record levels of CO.
You can monitor the current CO level in your home on a large, easy-to-read digital display. When dangerous levels of CO are present, a loud, audible alarm alerts you and your family automatically.
Performance™ Steam Humidifier
Enjoy the air you breathe. A properly humidified home can help you breathe more comfortably with less dryness, save on energy costs, reduce static electricity, and even help protect your wood furniture.
If you have a larger home or want to ensure consistent levels of humidity for the comfort of your family and the care of your furnishings, this steam humidifier may be your best choice. It generates steam by energizing two electrodes. Current flowing between the electrodes causes water to turn to steam, which is delivered into the duct by a patented dispersion tube.
Performance™ Ultraviolet Germicidal UV Light
The indoor coil is part of what cools your home, but it and its drain pan can also be a favorite hangout of mold and bacteria. Growth of these organisms can affect efficiency and reduce airflow. They can even become airborne.
UV lamps from Carrier are designed to kill the mold and bacteria that can grow in the moist environment of your indoor coils to help keep your system efficient and clean air flowing.
Performance™ Energy Recovery Ventilator
Carrier® Energy Recovery Ventilators (ERVs) are designed to minimize energy loss while bringing fresh air into your home and exiting stale air year round.
Energy recovery ventilators use the outgoing air's thermal energy to pre-condition the air coming in so you can enjoy fresh air without overworking your system.
Energy recovery ventilators are best used in climates where the summer is hot and humid.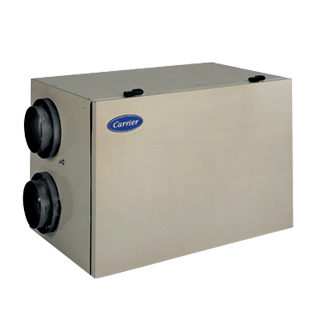 Performance™ Whole-Home Dehumidifier
Managing indoor humidity is important to creating a comfortable, healthy indoor environment. Too much humidity can encourage mold growth and create a cozy home for dust mites and other pests to thrive. High humidity can make you and your wallet uncomfortable too because you'll tend to want the cooling temperature lower than you need for comfort so your system has to work harder to keep up.
The Carrier® Performance series dehumidifier is available in two sizes so regardless if you need a whole-home solution or just have a humid basement, you'll have dehumidification that's just right for your needs. Both sizes work quietly to wring out humidity from the air so you can save on utilities and be comfortable. And, they're designed to be configurable with your existing system in a multitude of ways or operate independently away from your system if space is a problem.